Toelevering interieurbouw: Partner voor interieurbouwers, samen maken we iets moois:
Toelevering interieurbouw doen wij voor de momenten dat er een overload aan werk is zodat de flexibiliteit uit uw organisatie dreigt te verdwijnen. Een goed moment om een aantal werkzaamheden uit te besteden. Als wij van u een (eenvoudige) tekening krijgen met een omschrijving van de materialen die toegepast moeten worden, maken wij een prijsopgaaf. Deze prijsopgaaf kunt u weer gebruiken in uw offerte naar uw relatie.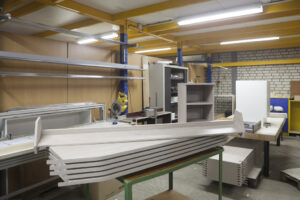 Wij kunnen alleen korpussen leveren of complete kasten met front. Ook hier gaan we ver in onze maatwerk. Als wij de productie voor een deel van u overnemen heeft u weer tijd voor montage van uw opdrachten of de verkoop van volgende projecten.
Bekijk onze projectkeukens uit het Libra keukenprogramma, de Cheap it Simple keukenlijn en de luxe maatwerk keukens uit het Misura keukenprogramma.
Volg ons ook op Social Media.