Maatwerk keukens Misura
Misura keukens, maatwerk is onze standaard:
Steeds meer consumenten willen een keuken die volledig aan hun wensen voldoet. Geen passtukken om ruimtes op te vangen maar keukenkasten die volledig op maat worden gemaakt voorzien van fronten die ook aan hun wensen voldoen. Met Misura kan dat. Nagenoeg alles is mogelijk. Een keukenkast van 60,4 cm is geen probleem, net als lades van bijvoorbeeld 94,4 cm.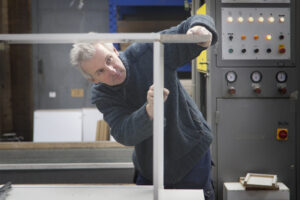 Bij Misura passen we kunststof fronten van Egger, Pfleiderer en Decolegno toe. Ook zijn er keuzemogelijkheden in folie-, acryl fronten, alternatieven voor acryl en Fenix. Van houten fronten hebben we een uitgebreide keuze in massiefhout en fineerhout in diverse beitskleuren.
De korpus is 18 mm dik en er kan uit diverse kleuren gekozen worden. De binnen- en buitenzijde zijn ook in kleur. Verder is de achterwand van 10 mm dik plaatmateriaal. Al met al een stevige en complete keuken die ieder werkblad (kunststof, natuursteen, composiet, beton, terrazzo of keramiek) kan dragen.
Het Misura programma beschikt ook over kastelementen. Met deze elementen kan de keuken steeds meer geïntegreerd worden in het interieur. De afmetingen liggen tussen de 130 mm en de 650 mm hoog. Afmetingen kunnen ook variëren zodat ook in het interieur maatwerk mogelijk is. Deze elementen kunnen worden gebruikt voor een tv meubel, of een hangend dressoir in een uitstraling die bij de keuken en de rest van het interieur past.
De Misura keukenlijn wordt ingezet bij keukenspecialisten.
Bekijk onze projectkeukens uit het Libra keukenprogramma, en de Cheap it Simple keukenlijn.
Volg ons ook op Social Media.