Cheap it simple concept, betaalbaar en eenvoudig: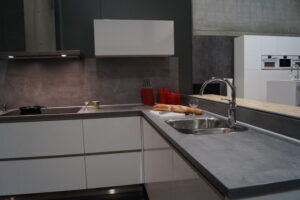 Cheap it simple is een betrekkelijk nieuw concept. Het bestaat uit keukenkasten, apparatuur, werkbladen en accessoires. Onze afnemers kunnen op een vrij eenvoudige wijze, in 3 stappen, een complete keuken aanbieden in een betaalbare prijsklasse.
Het concept bestaat uit tien (commerciële) frontkleuren en 4 korpuskleuren (16 mm binnen- en buitenzijde in kleur). Voor de keukens met greep zijn er 5 grepen mogelijk. In dit concept hebben we ook greeploze keukens.
In dit concept zijn commerciële apparaten beschikbaar van een apparatenleverancier, zoals: gas-, inductiekookplaten, blok afzuigkappen, combimagnetrons, ovens, koel- en vrieskasten en vaatwassers.
Voor wat betreft de werkbladen zijn er 5 kleuren mogelijk. Als randafwerking is er de keuze tussen een werkblad met waterkering of een werkblad met een rechte randafwerking. Eilandopstellingen zijn ook te maken want we hebben eilandwerkbladen van 1.00 meter of 1,20 meter diep.
Om de keuken compleet te maken, kiest men uit twee spoelbakken en vier kranen. Opmerkelijk is de levertijd van deze keukens, dat is namelijk 2 weken.
Eén keuken is één levering
Nadat de keuken is samengesteld, kan deze besteld worden. Na de bestelling ontvangt de relatie een orderbevestiging. Keuken, apparatuur, werkblad en accessoires worden in één keer geleverd. Niet alleen de verkoop is simpel, ook de bestelling, de levering en de facturatie is eenvoudig.
Cheap it simple keukens worden ingezet bij de keukenspecialisten. Relaties in de keukenbranche gebruiken dit concept voor consumenten die snel een keuken nodig hebben. Inmiddels worden de keukens ook toegepast als pantry of bedrijfskeuken. Ook vinden Cheap it simple keukens hun weg naar bedrijven of personen met een onroerend goed portefeuille. Vaak moet er in een korte tijd verbouwd worden. Deze keukens kunnen met twee weken geleverd worden en dat valt nog in het verbouwingstraject. Een eventuele schade kan ook snel worden opgelost.
Het Cheap it simple concept willen we actueel houden. We maken één keer per jaar een nieuwe brochure voorzien van alle aanpassingen.
Naar de website van Cheap it Simple
Bekijk onze projectkeukens uit het Libra keukenprogramma en de luxe maatwerk keukens uit het Misura keukenprogramma.
Volg ons ook op Social Media.