BouwToe Goirle, ruim een halve eeuw keuken- en kastenproducent.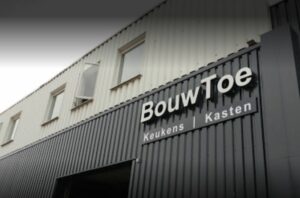 In ruim vijftig jaar groeide BouwToe Goirle van een bedrijf dat onderstellen voor meubels en tafels maakte naar een productiebedrijf in keuken- en garderobekasten. We kunnen zeggen dat we inmiddels een stabiele factor zijn in een roerige keukenmarkt. Dat heeft voornamelijk te maken met de diverse keukenmerken die wij maken in verschillende prijsklassen. Natuurlijk heeft het ook te maken met de klanten die wij al tientallen jaren bij ons kopen. De laatste jaren vinden ook interieurbouwers de weg naar ons voor half- of eindproducten.
De productie van de keuken- en de garderobekasten vindt plaats op twee locaties. De maatwerk keukens en kasten worden geproduceerd in Alphen de andere producten worden gemaakt in Goirle.
Levertijden, zo snel?:
Als we een opdracht van u krijgen, kunnen we vaak tussen vier en zes weken de keukens en de garderobekasten uitleveren. Sommige opdrachten vergen meer voorbereidingstijd en die leveren we dan binnen acht weken.
Cheap it simple is volledig anders qua levertijd want met dit keukenconcept zitten we op 2 weken levertijd. Voorwaarde is wel dat de opdracht vóór donderdagmiddag 12:00 uur binnenkomt. Orders die later binnenkomen worden binnen drie weken geleverd.
Productie en magazijn, de drijvende krachten:
Al uw opdrachten worden per commissie gemaakt. We hebben dus geen voorraden staan. Uw opdracht wordt per klant gemaakt in onze fabrieken. Na het productieproces worden de kasten verpakt en op pallets gezet zodat ze klaar zijn voor transport. Voor Cheap it simple keukens worden er in het magazijn ook nog de werkbladen, apparatuur en accessoires bij verpakt.
Service, van minpunt naar pluspunt:
Altijd een hekelpunt om te bespreken maar het is vaak wel noodzakelijk om duidelijkheid te creëren. We weten allemaal dat service snel en adequaat opgepakt moet worden om erger te voorkomen. Voor het overgrote deel van ons programma geldt een garantietermijn van 10 jaar. Alleen de keukens van Libra hebben een garantietermijn van 5 jaar.
Onze kwaliteitscontrole is hoog. Als er tijdens het productieproces een schade ontstaat, lossen we het op en heeft u als afnemer het niet eens gemerkt. Betreft het schade aan een front die een iets langere levertijd heeft, wordt dat gemeld op het beschadigde front. De keuken of de garderobekast kan dan gewoon gemonteerd worden en het beschadigde front wordt na geleverd.
Als er in de garantieperiode klachten ontstaan dan wordt dat meteen opgepakt.
Showroom, alles wordt duidelijk:
Naast de fabriek in Goirle staat de showroom. Onze keukens staan daar opgesteld en geven een goed beeld van de uitgebreide mogelijkheden. Natuurlijk is het ook mogelijk dat u met uw consument de showroom bezoekt. Een rondleiding door de fabriek is altijd mogelijk. De showroom is niet altijd geopend, op verzoek maken we graag een afspraak met u.
Bekijk onze projectkeukens uit het Libra keukenprogramma, de Cheap it Simple keukenlijn en de luxe maatwerk keukens uit het Misura keukenprogramma.
Volg ons ook op Social Media.